Dr. Qamar Named 2011 Top Doctor by Phoenix Magazine
We are pleased to announce that Q Vison surgeon Tariq Qamar, M.D. has been selected as a Top Doctor in the field of ophthalmology by Phoenix Magazine. Recipients of this honor are chosen entirely by other local doctors through a random survey.

"It's nice to know that your colleagues respect the work you do," states Dr. Qamar. "But, most of the credit really belongs to my staff. I am fortunate to have a core group that has been with me for many years and their hard work and dedication allow our team to provide excellent care. We hope to continue to provide Valley residents with great care for many years to come."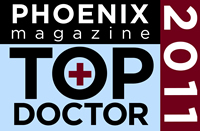 Questions about Topics Raised in this Article
(click a question to view answer)
There are currently no questions for this section. You can ask a question by filling in the form here.