Overcoming the Fear of LASIK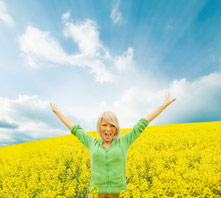 Our LASIK patients commonly tell us that their procedure was a lot easier than expected and they wish they would have had it sooner. However, these thoughts are only possible in hindsight. When it's your eyes and your procedure, fear and apprehension are understandable and normal. Everyone is afraid to some degree, and every day we meet patients who long for the visual freedom LASIK provides, but are just not quite sure they can do it.
In the end, there is only one way to overcome your fear and put yourself in a position to enjoy the miraculous, life-changing freedom that LASIK provides, and that is to gain confidence in the surgeon and the surgery team that will guide you safely through the procedure.
At Q Vision, the personalized care you receive is truly unique, and it begins with your surgeon. Unlike many centers, where the surgeon literally only sees you when you are underneath the laser for your procedure, your Q Vision surgeon is with you every step of the way – overseeing your preoperative testing, personally examining your eyes, personally discussing your candidacy with you and answering all of your questions, and along through your procedure and on every postoperative visit until you are safely healed and happy with your vision.
The unparalleled degree of individualized attention you receive doesn't just come from your surgeon. Every member of our team cares for you in the same confidence inspiring manner. Unlike many centers, Q Vision does not use an assembly line approach to patient care – whereby you are passed from station to station for care by individuals who are only trained for one specific task. Rather, you are guided through the entire process from start to finish by your own personal, highly-trained, VISX-certified ophthalmic technician.
The benefits of this approach are numerous. Your technician will truly get to know you and your visual needs. You'll learn the purpose of each test and be able to ask questions and receive intelligent, informed answers. Along the way, your technician's understanding of how the intricacies of each test interrelate allows us to obtain data of extraordinary quality. And finally, your technician's experience and detailed understanding of your eyes will facilitate communication of your needs and your test results with your surgeon, so that you can achieve the clearest possible vision.
Many of our AZ LASIK patients have told us that high-quality, personalized care is one of the primary reasons they chose us for their LASIK procedure.
Frequently Asked Questions about Overcoming fear of LASIK
(click a question to view answer)
There are currently no questions for this section. You can ask a question by filling in the form here.
Call us on (480) 661-1600
Or book your free consultation now
Book Now